Communities in Bloom
Communities in Bloom is a Canadian non-profit organization that promotes civic pride, environmental responsibility, and beautification through community involvement and the challenge of a national program. The program involves the evaluation of communities' efforts to enhance their environment through a variety of criteria, including community appearance, environmental action, heritage conservation, tree management, plant & floral displays and landscaping.
2023 Colour of the Year
This year's colour is purple, magenta, violet, lilac, or fuchsia. The colour purple stands for royalty and is often used in flower gardens as a symbol of majesty. It also can symbolize power, ambition, and luxury. Many flowers and plants have purple blooms, including lavender, iris, petunias, verbena, salvia, lisianthus, dianthus, cyclamen, celosia, calibrachoa, aquilegia, pansies, and allium. From lilacs to coneflowers, from coast to coast, let's paint the country purple!
Communities in Bloom's Purpose
Communities in Bloom has long harnessed the power of engaging, passionate people – community-minded people with a vested interest in making their communities a better place to live.
Climate Change
Climate change is affecting our cities, our communities, and our homes and is changing the way we must design and build our urban landscapes. Yes, climate change is a global problem, but the effects hit us locally, where we live. Each city, town and community must then seek solutions and develop initiatives that are specific to their needs – on their streets, in their parks, playgrounds and schools, at all their green spaces, at every opportunity. Never have our living landscapes been so crucial to our collective health and well-being – thriving, contributing, working green spaces and places for people to gather and enjoy. 
Urban green spaces such as gardens, parks, transportation corridors and woodlands provide a multitude of benefits to urban human populations and a vital habitat for wildlife. Here are some of the benefits of our urban green infrastructure:
improve air and water quality
limit the impact of heat waves by reducing urban temperatures
provide a place for physical fitness and reduce urban stress
enhance the health and well-being of people living and working in cities
filters air and water, helping to mitigate the effects of climate change in our cities and reducing the likelihood of flooding by slowing and storing excess rainwater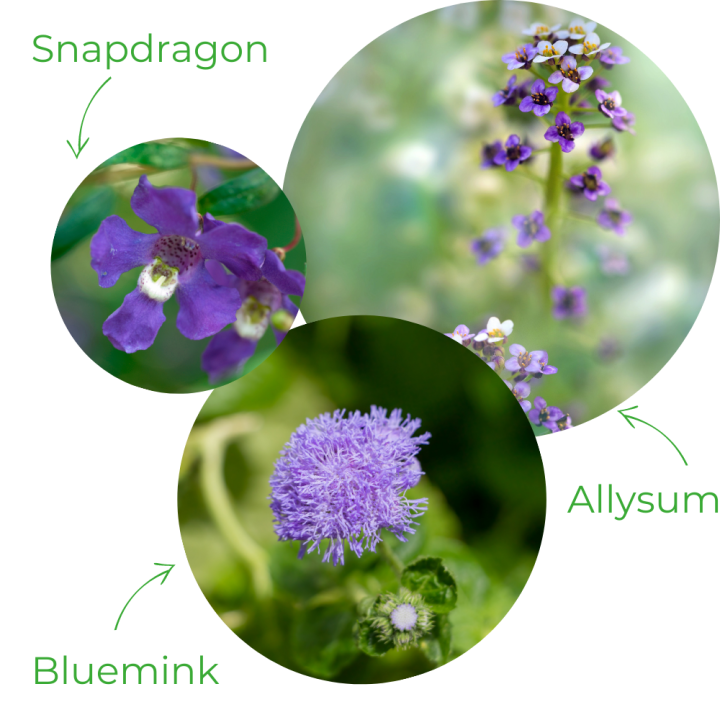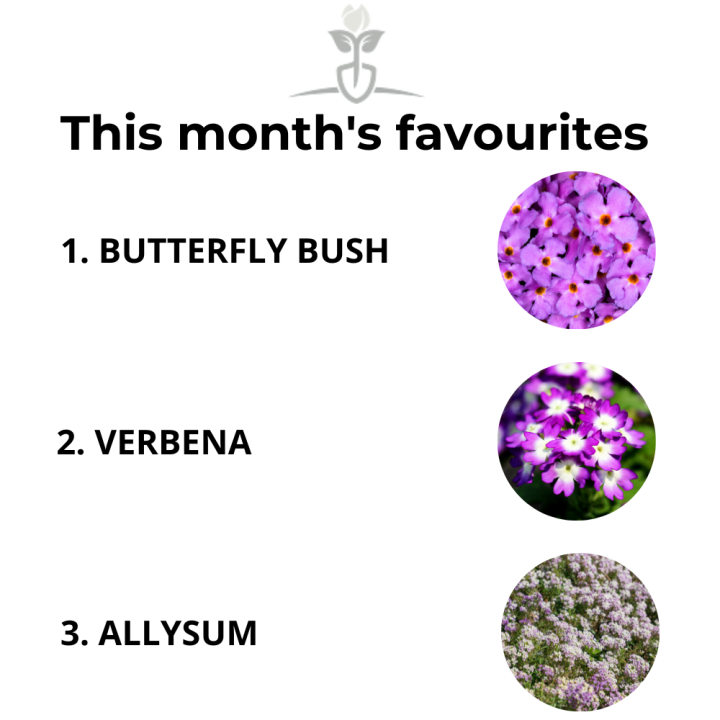 May's Favourite Purple Plants
Spring is here and so are these beautiful purple flowering plants.
Butterfly Bush: Butterfly Bush (Buddleia) is a beautiful flowering shrub that can grow up to 10 feet tall. Its long, narrow spikes of fragrant flowers bloom in a range of colors, from pink and purple to white and yellow. As its name suggests, Butterfly Bush is a magnet for butterflies, bees, and other pollinators, making it a great addition to any wildlife-friendly garden.
Verbena: Verbena is a beautiful and versatile plant that comes in many colors, including purple, pink, red, and white. It is a popular choice for hanging baskets, window boxes, and garden borders, and its long blooming season ensures a steady stream of color throughout the summer. Verbena is also loved by pollinators, making it a great addition to any wildlife-friendly garden.
Allysum: Allysum is a charming and delicate annual plant that produces masses of tiny, sweet-scented flowers. It blooms in a range of pastel shades, including white, pink, and lavender. Allysum is easy to grow and low-maintenance, making it a popular choice for borders, rock gardens, and containers.
Enter our Store Locator to search for a nearby independent garden centre.
How to Participate in Communities in Bloom?
Many communities, organizations and groups can participate in a Communities in Bloom program, with recognition and awards to showcase their accomplishments and efforts in maintaining or improving the environmental and aesthetical quality of the location.
Get Involved
If you're looking to get involved in your community and make a positive impact on the environment, Communities in Bloom is the perfect opportunity. Join the effort to create beautiful and sustainable communities across Canada and add a touch of purple to your community's garden.